Trackers Choice

IS YOUR CONNECTION FOR
NUVET SUPPLEMENTS
When it comes to bloodhound nutrition, we make sure to give the best form only respected Breeders and Showman alike us . Your bloodhound puppies health and well-being is our main priority.
NuVet Plus® ingredients and nutrients are compounded to maintain their integrity and bio-digestibility for complete cellular infusion. We use special "paddle dried," whole chicken liver that provides vitamin potency, as well as a taste your pet will love. Please view our full Ingredient List and descriptions to understand how these essential elements can help your pet get started on a path to optimal health as well as help them maintain a quality life full of vigor, vitality, comfort, and energy.
Dog ears can be erect (pricked), bent or completely flopped over, but however they are shaped on the outside, the anatomy on the inside remains the same. Parasites, moisture and debris can easily be trapped inside the ear canal, leading to conditions that, if left unchecked, will invite bacteria and yeast to take up residence in the affected area.
Our Ear Cleaner is a unique formulation containing all natural eucalyptus and soothing aloe vera. This is the perfect solution for maintaining healthy canine or feline ears.
Helps reduce ear wax
Promotes clean healthy ears
Routine ear cleanser for dogs, cats, puppies, and kittens
Pets are just as susceptible to poor joints and discomfort as their human companions, and senior pets aren't the only ones that can be affected. In fact, pets of all ages can be affected.
Safe for all breeds and ages, NuJoint Plus® was designed to be a natural, nutrient-rich hip and joint support supplement. We use only the highest quality pharmaceutical, human-grade ingredients that are specifically compounded in an FDA-registered laboratory for maximum potency, bio-availability and effectiveness.
It is hypo allergenic for all breeds. Soothes dry itchy skin and helps restore natural moisture balance to the skin. It's a great spray on hair conditioner. Many people use this between shampoos as a dry shampoo. This is what we recommend
NuJoint Double-Strength (DS)! This hip and joint supplement can help dogs of all ages by promoting optimal joint health.
NuJoint DS has increased amounts of the active ingredients MSM (Methylsulfonylmethane), Glucosamine, and Chondroitin. NuJoint DS also includes Vitamin C (Ester-C®) which is required for the synthesis of collagen (a component of joint cartilage), and it can also reduce free radical damage to cartilage.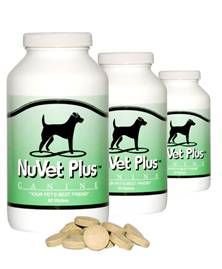 Keeping your pet's immune system strong is crucial in today's environment. Household toxins, fertilizers, pesticides, and even many of today's pet foods leave your pet's immune system susceptible. Regular and even premium brand pet foods can contain toxins, bad bacteria, and "meat by-products" (an industry term for anything other than meat). Other common ingredients are fillers like corn, wheat and barley. These food ingredients and other environmental factors are prime sources for poor health in your pet.